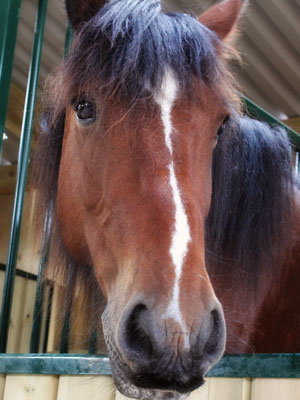 After lunch we ventured out on an hours trek over the hills and fields with beautiful sea views all around!
The girls were fantastic keeping you motivated and calm ... by your side and chatting all the while!
Lastly we walked the ponies out to their night time field ... mucked out and prepped the stables for the evening ...
Overall a brilliant day and I would recommend this day out to any age or ability - the girls work extremely hard and we thank you for a fabulous day!
We will definitely be back!!!
Kind regards Tracy and Andrew xxx
Tracy Bulco
Brilliant
Had a great time pony trekking ... we were both beginners and they gave us a lesson for half hour before we went out across the fields on a hack which was brilliant fun ... Would definitely do it again.
Tess
Brilliant!!
Staff really friendly ... My son had half an hour of instruction and a half an hour ride ... One of the girls then showed us around the stables and let him pet all the horses and she told him all their names ... Only £20 for the hour so very reasonable.
Laura K
good fun for the kids
My two daughters ( aged 10 and 12 ) went on a basic ride and had a great time.
Cost £20 but were well tutored and kitted out ... another holiday memory
Shaun H
Kids Trek
our 5 year old went on a half hour trek ... cost £12 ... She loved it and would recommend it to anyone ... she bought a photo of her horse ... Jerry ... and she is proud as punch!
Will & Mo
My My Daughters dream of riding on a beach came true
Lovely stables and a rare opportunity to ride on the beach ... The staff were excellent and if you are a Parent waiting for you daughter or son to return try and get in a conversation with the Farmer (owner) ... fantastic stories and a pleasure to spend 20mins
Matt P
Fun with Horses
Nothing to dislike ... Thoroughly enjoyed by the Family ... My youngest was so pleased ... because it was Her first ride on a Horse ... She is a Horse Fan ... !!! Staff Members were lovely people ... and polite and friendly and helpful ... Big Thanks ... x
Timothy S
Absolutely amazing.
Had a wonderful time - as an older ... rather nervous novice ... I found they couldn't have been kinder or more encouraging and helpful ... Wonderful horses and such beautiful scenery to enjoy along the way.
Angela C
Great scenic hack
I felt really confident riding here ... Having not ridden for 5 years I was quite reassured when we were told (on seeing us on the ponies) that a half hour lesson was required before the hack ... The scenic route is beautiful even in the rain ... and enjoyed it so much we went back 2 days later as well ... Still walking like John Wayne though!

*** Please note we have a maximum weight limit of 15 stone. ***